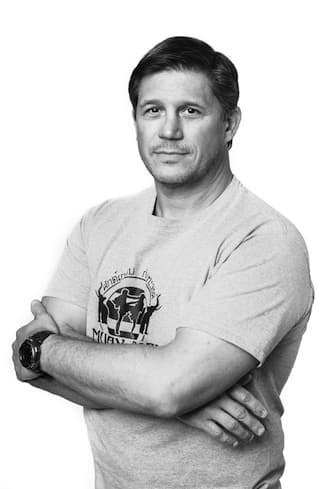 Greg Smith
As the co-founder of Bushido Mixed Martial Arts and head instructor of the Bushido Striking System, Greg began his journey in the martial arts in 1989 at Old Dominion University. Greg was introduced to the world of Martial Arts by Sensei Hiroyuki Hamada (highest ranking Martial Arts Master outside of Japan).
Greg was empowered not only by the physical benefits, but also the mental and spiritual attributes of the study of Martial Arts. Greg continued his training in Tang Soo Do and Aikido. His study of Martial Arts continued in 1995 when he began Muay Thai, Jeet Kune Do, Filipino Martial Arts, and Brazilian Jiu-Jitsu. In addition, in 2004, he added Combat Submission Wrestling to his arsenal.
Through the study of these arts Greg has met and had the honor of training with some of the best instructors in the world to include but not limited to: Kru Sakasem Kanthawong, Guru Dan Inosanto, Punong Guro Edgar Sulite, Ajarn Chai Serisute, Erick Paulson (CSW), Saulo Ribeiro, Xande Ribeiro, Pedro Sauer, Frank Cucci (Linxx Academy), and Antonio Torres.
Greg found these arts to be a fantastic combination, covering many of the aspects needed to become a complete Martial Artist. With 23 years of Martial Arts training and 20 years of teaching experience, Greg continues his journey, conveying the benefits of Martial Arts to his students.
Request Information
Kids Martial Arts
Muay Thai Kickboxing
Brazilian Jiu Jitsu